Oratorical Contest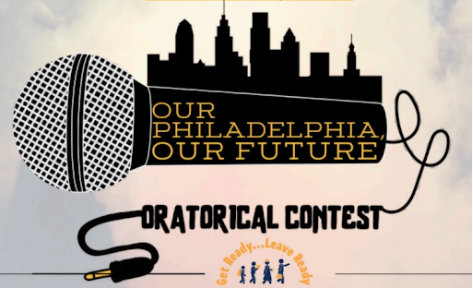 Theme: "My Philadelphia. My Future."
Dear Principals,
I'm thrilled to announce the School District of Philadelphia's 1st Annual Oratorical Contest! The goal of the oratorical contest is to promote student discourse and lift student voice by allowing high school students the opportunity to share their unique values, opinions, beliefs, and perspectives in a creative, cultural, and identity-inclusive academic setting.
The contest provides a meaningful forum for students to develop their speaking, writing, and oratory skills while also developing poise and confidence in the important life skill of public speaking. This year's theme is, "My Philadelphia. My Future." With this theme, we encourage students to explore how they envision being an authentic builder/contributor to the future of our city.
Any student enrolled in grades 9 – 12 in a School District of Philadelphia public high school can enter the contest. To enter, students must complete the entry form and submit a video of an original three-minute speech or spoken word piece by November 30, 2020.  The entry form, contest rules, and helpful quick start guides are linked on our website at https://www.philasd.org/curriculum/oratorical/
I hope I can count on your support by promoting this event among your staff, students, and families. I don't know about you, but I'm so excited to hear what our students create. Will the winner hail from your school? Only time will tell!
For more information about the contest, please click the links above and visit our website.
Let's get our high school students motivated to participate in this initiative!
Sincerely,
Malika Savoy-Brooks