Alumni
---
President's Message
Hello Everyone,
My name is Dr. Louis Teller, and I am proud to serve as your alumni president. I graduated from Northeast with honors in 1989. The three years that I attended Northeast were one of the best years of my life. I am proud to be an alumnus of Northeast. I returned to the Board in the 1990's.
I am proud to continue the tradition of our school whose alumni association is one of the oldest and best in the country. It is my sincere wish that when you graduate that you will join our alumni association. We have meetings and dinners and fundraisers to raise money for scholarships to our students.
Please make it a point to attend Alumni Day on May 5, 2023. It is one of our biggest fundraisers. If you have any questions or concerns please feel free to contact me.
Sincerely,
Louis Teller, Ph.D. '89
List of Officers Northeast High School Alumni Association for 2022-2023
Judy ChantOffice Manager
| Dr. Louis Teller | President |
| --- | --- |
| Lonnie Goldiner | 1st Vice President |
| Marilyn Lerman | 2nd Vice President |
| Steve Cohen | 3rd Vice President |
| Carol Bombas | Recording Secretary |
| Myron Zonies | Treasurer |
| Howard Rovner | Chairman Alumni Foundation |
---
Principal's Message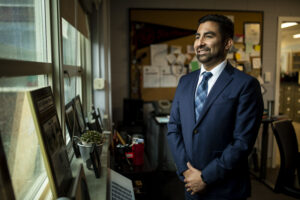 As I enter my fifth year as the proud principal of Northeast High School, I must admit it is just as exciting – and terrifying – as was my first year as principal!  Our school has grown in every positive way imaginable since my first day and I credit our amazing students, teachers, and administrative team with the overwhelming majority of that success.  My continued aim is to represent and serve the 3,500 students and tens of thousands of Northeast alumni in celebrating and broadcasting our success.
Emerging from COVID-ravaged years has been both challenging and rewarding. It is our mission to return to the same unwavering commitment to high-quality instruction as before the pandemic as well as return to students a sense of normalcy and community that has made – and makes – Northeast High School the legacy it is.
With the cooperation of the Levin Foundation, our school community, and the 2nd Philadelphia Police District, our 2022 Levin Run was a tremendous success for which we are grateful to all parties!
And while the year is young, there is so much on the horizon, including exclusive Northeast traditions such as Senior Pin Night, Homecoming, and the return of our Latinos Unidos Gala!
As a member of our alumni organization, I invite you to join us for some upcoming events:
· Winter Arts Festival, 09 December 2022 @ 6:30 p.m.
· Multicultural Festival, 20 January 2023 @ 6:30 p.m.
· Black History Festival, 17 February 2023 @ 6:30 p.m.
· "High School is a Drag" Event, 09 March 2023 @ 6:30 p.m.
· NEHS' Annual Musical, 27-29 April 2023 @ 7:00 p.m.
· And many others!
Please stay in touch!
I look forward to seeing you soon!
Sincerely,
Mr. Omar F. Crowder
Principal
Northeast High School
---
Scholarships
On a rotating basis, the NEHS Alumni Foundation presents a 4 year full-tution scholarship to one student to the following universities:
University of Pennsylvania – Dr. Andrew Morrison Scholarship
Temple University – Stanley and Fleurette Lang Scholarship
Temple University – Stanley H. Lang Scholarship
West Chester University – William Kassimir/Mark Jacob Scholarship
How else does the NEHS Association and it's Foundation help students?
Approx. $80,000 given in 2021 in graduation awards, Financial assistance for needy students, established Wall of Fame to honor illustrious graduates, a memorial garden to honor graduates who served in the Armed Forces, Annual Alumni Day Program, Annual newsletter to Life Members.    For more infomation call: 215-400-3200 or email NEHSalum@gmail.com